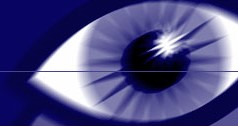 What a fun day to catch up with the crazy world of the web.
So there is this site,
Covenant Eyes
, which promotes "internet integrity" by providing software you install in your computer, which monitors your internet activity
. The company is certainly of Christian denomination, since they refer to God a lot and a covenant that Job made (for some reason unbeknownst to me I'm supposed to be bound, like everyone, to a covenant made by someone else, but never mind that for now).
Now, the way this works is that you have to select a partner who will help you overcome the temptation to open web-sites of objectionable material, whether this be porn, gambling, Oprah, or whatever it is that you find both addictive and objectionable. Their main example is that of a married man who is addicted to porn.
So, the husband wants to overcome his porn addiction (I doubt he really 'wants to' overcome this... I think it's probably more likely that he's too guilt-ridden, or simply got caught by the wife), so he signs up for this service and installs the software. The software monitors his online activity, and then the system proceeds to send regular reports to the wife, who then obviously gets to find out exactly what her hubby has been "up" to. If he's been watching porn, then she gets to read all about it...
Of course, the site doesn't say anything about whether the porn the husband watches online is that of his wife getting gang-banged in blacks-on-blondes fashion...
First of all, it's kind of sad that people have to resort to such means to be able to overcome their temptations. If the Christians who formed this group
really
wanted people to abide by what the Bible says, then they should develop a system that plucks out the eyes of sinners. That's what JC himself, the big cheese, recommended...
The ironic thing about this is that this service can be used precisely for the opposite purpose than that intended by its creators:
Suppose that you're not very good at finding good porn sites, and are always ending up on sites that have 10 second clips with horrible quality. Unless you're a 10-second man, this ain't gonna cut it...
Suppose further that you have a friend who is the king of internet porn: he finds all the great feature-length videos with the super hot pornstars who are willing to do anything... and love it.
Well, why not sign up for an account with Covenant Eyes, and use your buddy as your partner?
Every week you would get a report of all the great sites he visited, and then can follow the links to enjoy the subsequent safe sex that would ensue with that someone you truly love: yourself.
On a different note, what is starting to intrigue me is who works for this company. I can just picture it: a whole bunch of Christian conservatives browsing for porn every single day, all day long!